Are you one of those individuals who want to get super rich in Line play but do not know how to do so? Well, do not worry because you have come to the right place! With the help of many expert Line players, we were able to find multiple ways to answer your question: "How to get Cash in Line Play?". In this guide, we have included awesome tricks and tips to get richer than all your friends in no time at all! Moreover, we will be clearing all the doubts and confusion you may have about Line Play. So, read the guide carefully and do not forget to leave a comment.
What is Line Play?
Many people confuse Line Play with the social media communication application, Line. You will not be able to find the Line Play Avatar game in the communication app LINE. Most of this confusion roots from both of the apps having the same name and developers. However, Line Play is related to Line, but both are two independent apps. Having the Line communication app will not necessarily benefit you in Line Play. Although, it is better to have the communication LINE app as many players in Line Play have one. Having that app will help you get closer to your in-game friends.
Line Play is a role-playing game in which you can create your avatar and party with your friends. You can dress up your avatar as you like! The Line Play has virtual environments that you also create, just like how you make your avatar. You can build your house and customize it. This game is an excellent way to communicate with your family and friends and create new friends online. Moreover, many special events take place regularly and where you can enjoy yourself with your friends. You can also join chatrooms and communicate through actions.
LINE Corporation, owner and operator of LINE, a free call and messaging app, developed the game in February 2013. The game's sales skyrocketed, and the app dominated the top free apps charts in both the App Store and Google Play Store in many countries. The game currently has over 75 Million users and is still very popular in many countries such as America, Taiwan, Thailand, and Indonesia. LINE Corporation originally introduced the game in Japan, which is why many Japanese people are very active players of Line Play.
Is Line Play Safe?
Worried that the game might somehow be dangerous to play? Don't fret as you are not alone. Let me share a little of my personal experience. When I started playing Line Play 3 years ago, I was also troubled that it might bring a virus to my phone or take my personal information. Fortunately, there is nothing to be worried about. In my three years of playi9ng this game, I have never confronted any threat to my mobile or myself.
Some people might get aggressive but do not worry as they can scream from behind the screen and never be able to get you in your real life unless you leak your information online. It is crucial to remember never to tell your personal information to anyone, or else even a kid's game could cause you great harm. No matter how friendly someone seems, do not trust someone online, especially if you are younger than 18. Many predators roam around on the internet. Line Play has over 75 million users, so it is not quite possible to ban every single offender. However, there have been little to no cases of someone getting preyed on from Line Play. Hence, we can conclude that Line Play is very safe to play.
Is Line Free to Play?
Yes! Line Play is completely free to play. However, some in-game features are paid, but the game is great even if you play without those paid features. The Line enables free communication, bridging the gap between family, friends, and loved ones. You can interact with others in various ways, including audio and video chats, texts, and an infinite number of fascinating stickers. And the best part is that you can use all of these features completely free of charge!
How to Play in Line Play?
If you are someone a friend invited and now you do not know much or how to get cash in line play, you may first want to know how to play. Line Play is a very simple game and does not involve the use of many complex functions. The controls and features are very similar to other virtual reality games you may have played before. Using this guide, you will be able to understand and play the game easily. Just follow the steps given below.
Download Line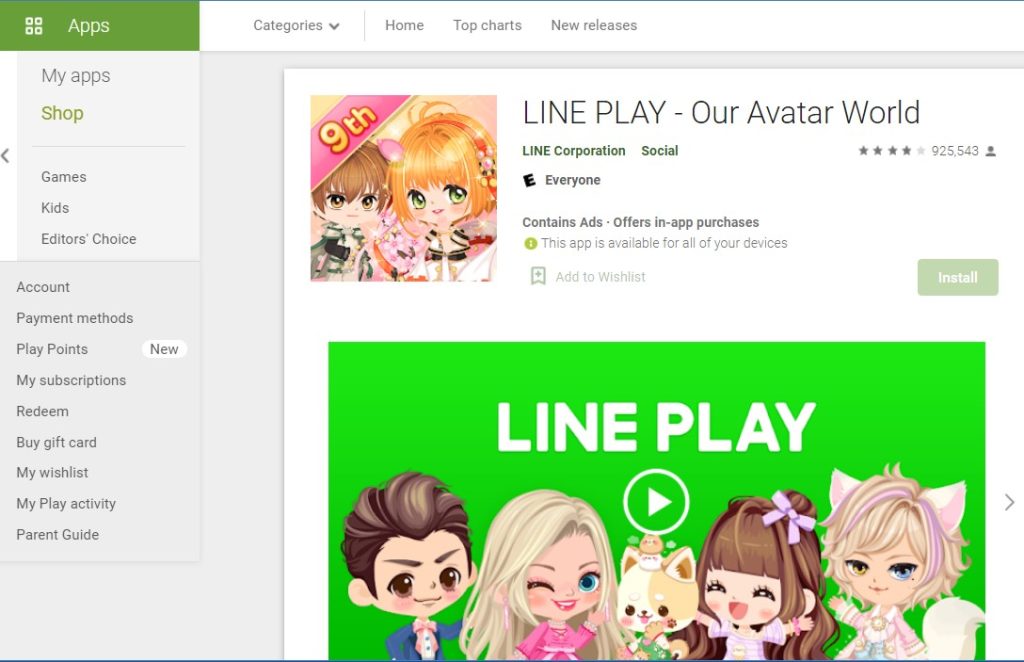 Ok so, Line Play is a game that you can only play by downloading the application. There is no website through which you can play the game on your computer or laptop's browser. It is very simple to download the game. Firstly, open Play Store and search Line Play in the search bar of the store. You will find several applications, but you must open the correct one. The right app is the one which was developed by LINE Corporation. Press the download button and wait for it to download.
A pop-up might open asking you to allow the permissions, tap on allow, and let the game application be installed on your device. Once it is done, tap the app icon in the menu and wait for it to open fully. Once you have downloaded and opened the app, the app will ask you to allow permissions for calls and access to media files. When you are done with the permissions, a further 300 to 400 MBs will be downloaded. Wait till the entire downloading process is complete. You may want to leave your phone to charge while you wait. Do not close the app or else the downloading will stop.
Create an Avatar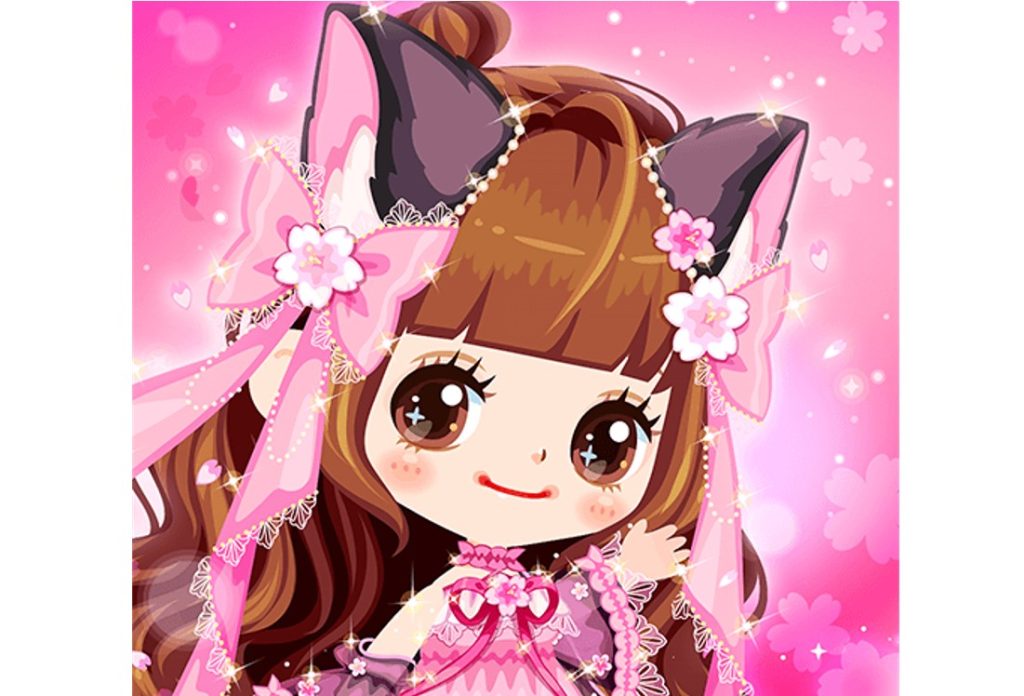 Now, the game will start after all the installation processes. A girl character will appear and guide you on what the game is about. Keep clicking on the screen to continue. The girl will lead you to a screen on which it will ask you what gender do you want your avatar to be. Select the gender you want and press next. Next, you can either upload your photo for the game to make an avatar for you or you can customize it however you like. Just press the edit button and continue dressing and editing your avatar. Once you are done, press the "continue" button, and voilà you have your own Avatar!
Start Playing
Finally, now that you have the game and an avatar or yourself, it is time to start exploring the virtual world! The first thing you should do is decorate and furnish your room. Try not to wander around in the beginning and get a hold of the controls first. Press the design button and go to the furniture tab. There will be many things in there but you must find a bed because when you first start the Line Play game, your avatar is designed to feel sleepy. Once you find a bed, place it in an empty area. Now, tap the bed to sleep on it. When your avatar wakes up you can get out of your room, make new friends, and party as much as you like! Just like Bryan Kenny of Poker, there are many professional players of Line Play. Mingle with them and explore the new world.
How to Get Cash in Line Play?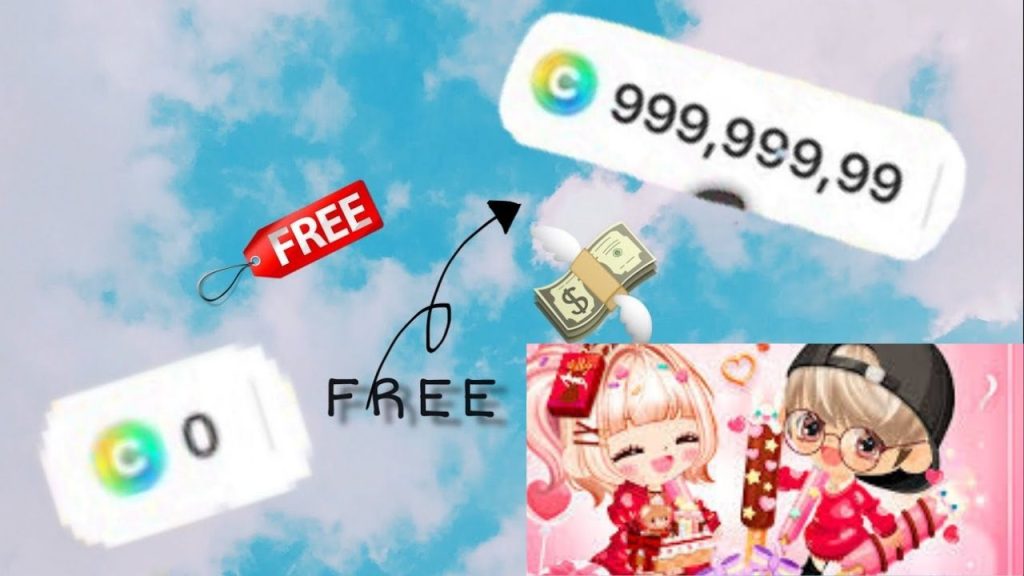 Now that we know everything about Line Play that we needed to know to start playing the game, let's learn how to get cash in Line Play. There are many ways in which you can earn cash and get rich in the virtual fantasy game. While some tricks will take a lot of time, there are also fast and easy ways to earn cash. In this guide, we will include the multiple methods through which one can get rich in Line Play. Simply follow the instructions and give it all your hard work. Of course, hustling is required. In actual life, you can't get rich without working. Similarly, you cannot get wealthy in Line Play without putting in some effort.
It is not necessary to be rich and have a lot of cash in Line Play but one will need it to buy new clothes, items and, etc. Line Play's main currency is cash. Hence, it is needed to buy many things in the game. For example, many avatars are played with cash.  There are also several Pets that can be bought with cash. Line Play cash may be obtained through daily login rewards, events, the Las Vegas calendar, or real-money purchases. There are shops in which players can buy a selection of attire, home furnishings, interior sets, presents, house expansion, or even a Face Shop Ticket to modify the appearance of their avatar. Buying any of these necessitate the use of Gems or Cash. Therefore, let's finally learn all the ways through which you can get rich!
Daily Log in Awards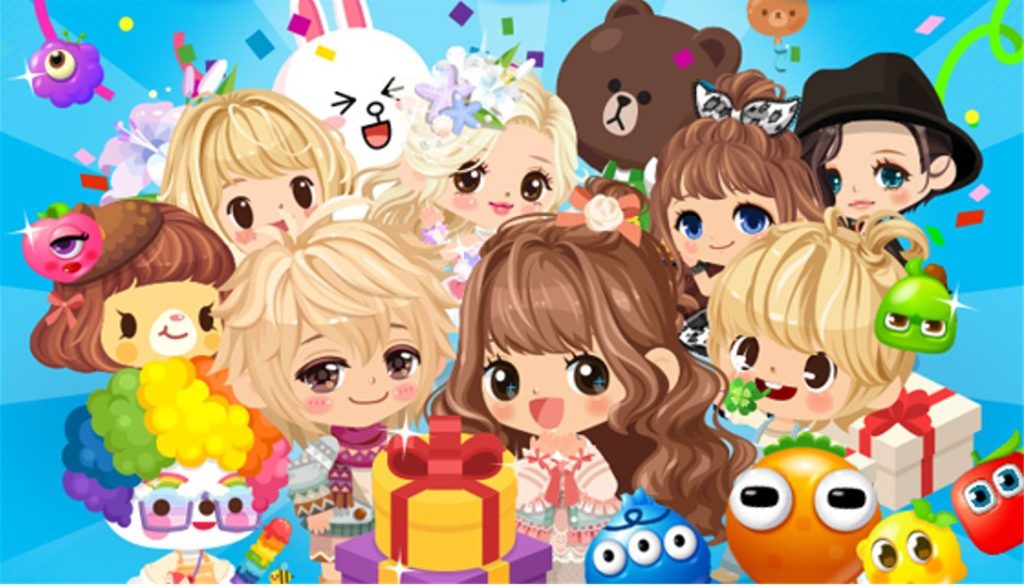 Daily Login rewards are one of the easiest ways to get free cash. All you have to do is log in every day and at the end of the month, you will receive 5 cash. This might sound like it is too less but there is a lot of good stuff you can buy with just 5 cash. Just no matter what happens do not forget to log into the game every day otherwise the streak will be broken and you will not receive your reward. Players can only get 5 cash on the last day of the month. Hence, make sure you do not break the streak and reach the end of the month to get your free cash reward.
There is also another login reward that gives you cash weekly. This one is the Las Vegas first attendance chart. From this chart, you can receive cash weekly in small amounts just by logging in! Sound like a good deal, doesn't it? Just do not forget to log in every day and you will be rich in just a few months! If you are very busy and can not log in to play on any day, you can give your email ID and password to your closest and trustworthy friend to help you receive the login reward. This way you can work without worrying about breaking your streak or losing your daily login reward!
Lucky Star Spin Event
Another one of the best ways to get cash in Line Play is from the Lucky Star Spin event. This event is very popular among Line players and is also loved by a lot for its amazing rewards. There are many variations of the Lucky Star Spin. The one that is currently open is the Mouse Pirates Lucky Star Events. You will find an option on the top of your screen to open the event. When you click the icon, you will see two Gachas holding a wheel. For ten cash, spin this wheel to receive a different reward each time. Cash, diamonds, and hearts are among the prizes that you can get by spinning the wheel. Keep your lucky charm with you while you spin the wheel to maximize your chance of getting cash!
Line Play Cash Generator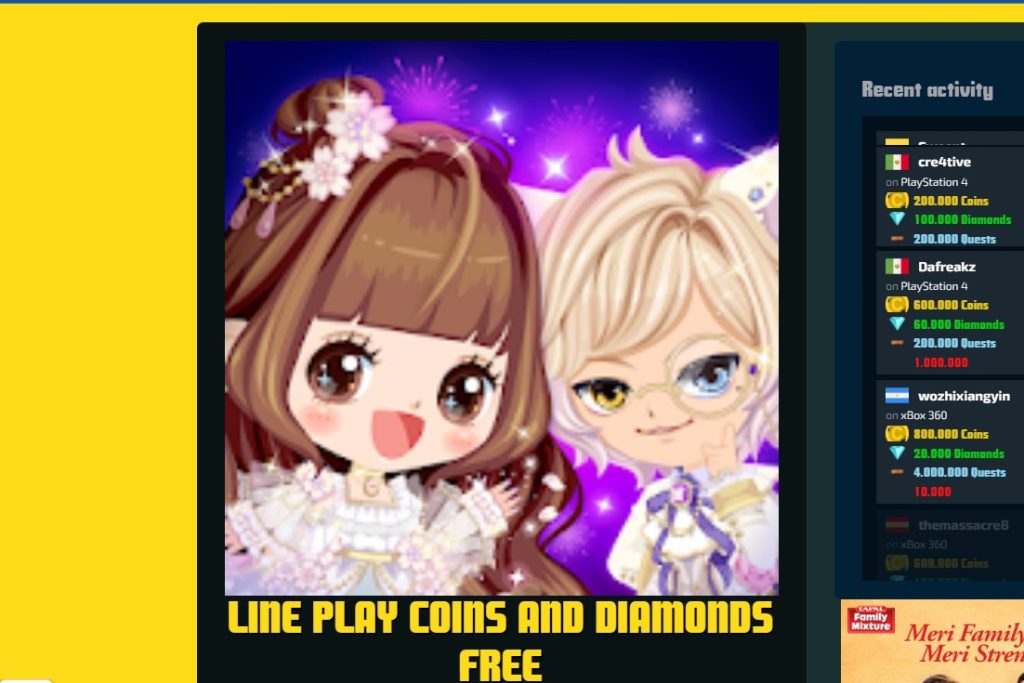 There are many generators, cheats, and hacks to get cash in Line Play. However, do remember that these cheats might cost you your account as these things fall outside the guideline Line Corp has set for the players. You can try the generators but do not cry when your account gets blocked. To save your account from getting banned or blocked, you can make another account first and then use the generators to get cash in it. Wait some days to see if your account gets canceled. If nothing happens for a week or two, you can try using the generator for your real account. This, however, is still risky and you can do it at your own risk. It is the least recommended way to get cash in Line Play.
You can search up Line Play Cash generators on google in your browser and find many generators. Open the Trukocash Line Play cash generator and a pop-up will appear asking you to accept cookies, which you need to do to proceed further. Now, you will see a cash generator asking you how much cash you want to make. Keep on pressing the "+" icon until you are satisfied with the amount, and then, scroll down. You will see a "Start" button; click or tap on the button to continue. Fill in your Line Play account username and put in the password. Finally, wait till the amount is transacted to your account. Easy peasy!
Purchase with Real Money
Last but not least, you can buy cash with real money. There are not many ways to get cash in Line Play. However, the easiest way to get some is by purchasing it. The price depends on how much cash you want to buy. For 1.99 dollars, you will get 30 cash. Now, this is what you will collect in 6 months by the login rewards. You can see how this is a much faster way to get cash. However, there are many young players that do not earn on their own and find it hard to pay even such a little amount. Those kids can save their everyday pocket money to buy cash in Line Play.
Even if you get 20 cents a day as your pocket money, you can save 1.99 dollars in just 10 days. Moreover, you will also be getting bonus cash on every purchase depending on how much cash you bought. All you will have to do is kill your desire to buy snacks, candies, chocolates, and etc. It might be hard but it would be worth it. Imagine being the cool rich friend in Line Play who everyone likes to be around. Your online crush will finally notice you!
How Do You Get More Gems in Line Play?
Getting gems is way easier than getting cash in Line Play. Unlike cash, there are many ways to earn gems and get rich. You can get gems from events, daily login rewards, generators, real-money shops, by inviting friends, and also by watching video ads. We have already learned how to get rewards from daily logins, generators, and events. Now, let's learn how to get gems by inviting friends. This method is the fastest and best way to get rich in Line Play. Getting more gems is more important than getting more cash because gems are needed to buy more things.
Inviting Friends to Get Gems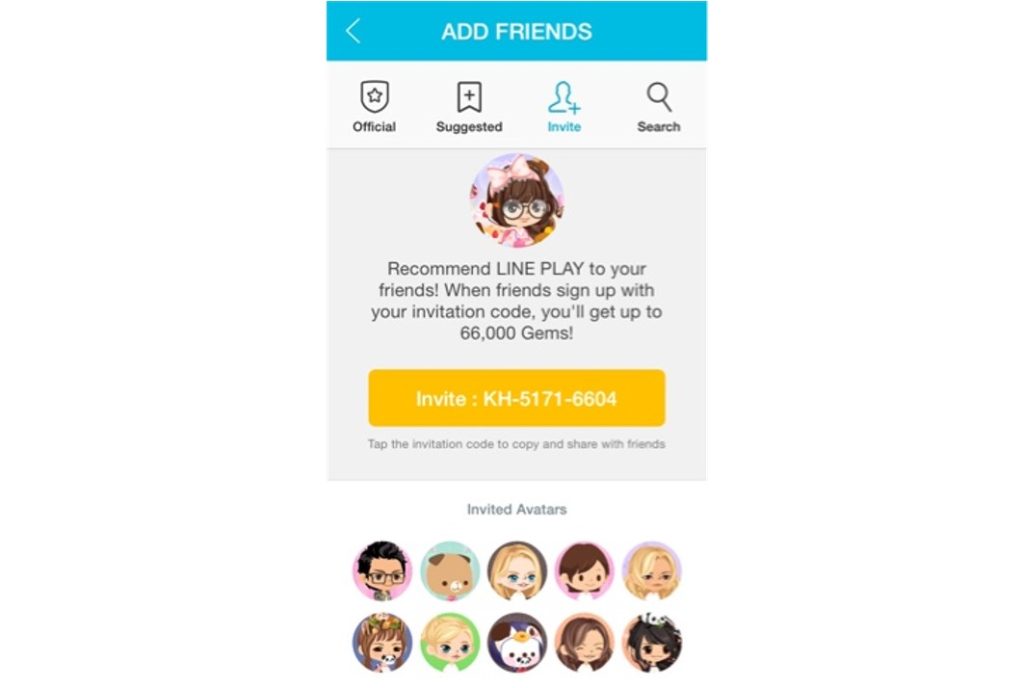 Firstly, download and install the Line App on your mobile phone. Now, open the app and click on the "More" tab. Once it loads, tap the "Add Friends" button to invite friends and earn more gems. Search the friends you want to invite by their Line ID and invite them. You can also type random words in the search bar and invite random people. This action will also get you the same gems as inviting your friends. The Line App can not differentiate between who is your friend and who is not.
Some will provide results, while others will not. You can only search for a particular number of individuals at a time on LINE, and once you reach that limit, you'll get an error notice that says "The maximum number of searches has been exceeded." The ID search function is currently unavailable. When you receive this error, wait for an hour or two, and then you can start looking for individuals to invite again.
Go to LINE Play once you are done with inviting people to the game. Continue to the "Friends" part of the website or the app. Next, go to the "Friends" menu and select "Add Friends". Recommended Friends will display if someone you added in LINE already has a LINE Play account. To go to the LINE Friends area, scroll down. There should be an Invite +1000 gems button next to each person's name. You will receive 1000 diamonds for each person if you click each button.
Conclusion
These were all the ways to get cash in Line Play and to get rich fast. Hopefully, any of these methods were able to help you in getting rich and becoming cooler in the game. Good Luck with your adventure!